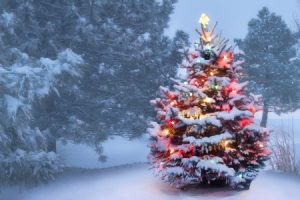 A beautiful way to fill your home with the smell of pine, the real Christmas tree is the preferred choice for many families. As the holiday season draws near and you and your children head out in search of your perfect tree, we at Amherst Exterminators would like to provide you a bit of advice to keep your home free of bugs and pests. Some of the most common insects found on Christmas trees are bark beetles, mites, praying mantis and spiders. None of these pests can cause harm to you or your home, but they can be an annoying nuisance as you are preparing to entertain holiday guests. Follow these words of advice to keep your home and tree bug-free this winter.
Take Preventative Measures
Instead of worrying about pests this season, take some preventative measures to remove them from your tree before bringing it inside. Visit a Christmas tree farm that has a mechanical shaker to dislodge bird nests, debris and stray pests before you head home. This will also get rid of loose needles that are bound to fall onto your floor.
Get Out the Vacuum Cleaner
Although the warm temperatures in your home will kill pests quickly, you can also use a vacuum cleaner to remove bugs sooner. We recommend steering clear of aerosol insect sprays, because of their flammability.
Regardless of what types of pest you are dealing with this holiday season, contact Amherst Exterminators to take care of the problem quickly and efficiently. Contact us online or by calling 716-908-2475 today!