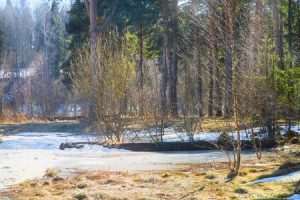 Western New York is known for many things, with harsh winters being near the top of the list, but this past winter has been warmer than average. While that makes life a little easier for area residents, it does the same for area insects as well.
It is difficult to predict how this winter's weather precisely impacts the insect population, but generally speaking, warmer weather allows a larger population of bugs to remain alive through the winter months. That, in turn, means a larger insect population in early spring.
"In the Northeast, milder winters are leading to changes in the distribution of plants and animals, including forest pests and insects that spread disease," the Cary Institute explains. "Less snow translates into less snowmelt to the detriment of groundwater supplies. A lack of insulating snow cover damages plant roots. And intense rain events result in flooding, with damages to infrastructure."
So while you've enjoyed our mild winter, make sure your home is ready for the spring and the return of the insects. Amherst Exterminators eliminates pests in a safe and cost-effective manner. With a proper inspection and subsequent treatments, we can correct or prevent any pest control problem.
Amherst Exterminators uses a process called Integrated Pest Management, which has six steps to ridding your home of bugs. That includes an inspection, an identification of the problem, applications of non-chemical and chemical approaches, continual monitoring and communication with you to keep you informed during and after the treatment.
We can help you fight against the possibly larger insect population and ensure your home is insect free. With years of experience, Amherst Exterminators has helped residents throughout Western New York to get rid of the pests that not only spread disease and painful or itchy bites, but can damage property as well.
As spring arrives, call Amherst Exterminators to schedule an inspection of your home. We pride ourselves on protecting our neighbors from everything from ants, flies and bed bugs to mice, rats and bats. Find out how we can help you today by calling 716-908-2475.