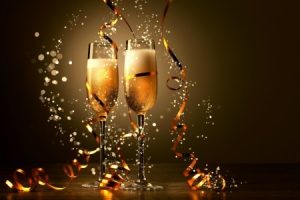 As 2016 draws near, many of us are trying to come up with some great New Year's resolution we can keep. Whether you plan to make changes to your lifestyle, learn a new hobby or read more this year, there are a few extra resolution ideas that Amherst Exterminators encourages you to consider. While cleaning and repairing your home may not be the most exciting New Year's activities, they can reduce pest problems, making your home a more enjoyable and stress-free place throughout the upcoming year.
Clean Out the Pantry
There is nothing that pests love more than a dark pantry with crumbs galore. Instead of worrying about ants and other insects as the weather warms up this spring, take preventative measures by putting aside some time to clean your pantry this year. Wipe down the shelves, make sure everything is properly sealed and sweep up the floor to keep bugs at bay.
Move Your Firewood
One of the most common mistakes that families make is stacking firewood next to their house. Carpenter ants, spiders and termites all like to cozy up in the wood pile and end up being carried right into your home when you go to start a fire. Start off the new year right by moving your woodpile across the yard this January to keep your home and garage pest-free.
Seal Up Cracks and Crevices
If you haven't winterized your home yet, make a New Year's resolution to do so in the next month. As the weather grows colder, rodents and bugs are more likely to head towards your home for warmth, and even the smallest holes can give them access. Seal up cracks and crevices around the foundation of your home and check to make sure all of your doors and windows seal tightly closed for a warm and pest-free year.
Check Areas Prone To Pests Regularly
After taking the above preventative measures, remember to check for pest activity regularly throughout the year 2016. We recommend taking time to check your attic, basement and outside walls every few weeks for signs of unwanted visitors. Even if you see just a couple of bugs, contact us right away at 716-908-2475. Insects and rodents reproduce quickly and the fastest and easiest way to stop a pest problem is to get to them before things get out of hand.