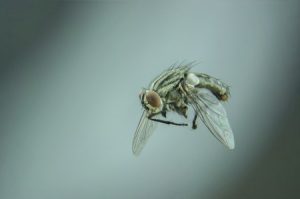 Most people are pretty familiar with common house flies. They come out in the summer months, and once they work their way into your home, it can be really difficult to get rid of them. You can spend days, weeks, and in some cases, even months swatting at them and trying to get them to leave. However, there's another kind of fly that can also work its way into your home, and when it does, it will often drive you crazy throughout the winter.
What Do Cluster Flies Look Like?
Cluster flies are dull-gray in color with black markings and are slightly larger than the house flies that you know. Unlike house flies, they don't come out in the summertime. They wait until the fall, and when they are able to get inside of homes, they often work their way into rooms that get a lot of sun. They seek out spots inside of walls and attics to stay, and once they find them, they will usually make themselves right at home. They don't reproduce in these spots, but they will often congregate in the spots and fly throughout your home on winter days.
How Can You Get Rid of Cluster Flies?
It can be difficult to get rid of cluster flies, so if you suspect that you might have them in your home, it's best to leave the extermination of them to a professional. You should also take steps to prevent cluster flies from entering your home in the first place. They tend to enter homes through broken screens and in cracks located around windows. They also have trouble finding their way out once they're in, which is why they don't usually leave on their own.
Amherst Exterminators understands how frustrating it can be to get rid of cluster flies. If you are currently dealing with a cluster fly infestation, call us at 716-908-2475 today to hear about some of the options you have as far as getting them out of your home. We will work on your behalf to eliminate cluster flies from your property once and for all.