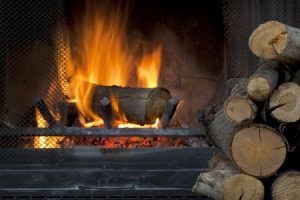 If you use the fireplace inside of your home during the bitter cold of winters of Western New York, it is important to understand how to prevent pests from gaining access into your home through it.
Inspecting Your Firewood
When you transport outside firewood into your home, it is vital that you inspect each piece of firewood first for pests. Wood that was sitting outside for an extended period of time likely has insects within the log. You should check your firewood for any holes where insects might be hiding out. Before you bring the firewood into your home, hit it against pavement several times to shake any insects loose. If there are insects inside or on your firewood, they will leave the log when the log starts to get hot and disperse into your home. Eliminate them before they get inside.
Get Fireplace Inspected
Most people only use their fireplace during the coldest winter months.  Fireplaces are dormant most of the time which makes them an easy hiding place for rodents, pests, and insects. Before you start using your fireplace, you should get it professionally inspected by a chimney sweep. If the chimney sweep suspects pests, you should then bring in a professional pest control company to get it taken care of.
Shutting the Flue
Unfortunately, a chimney pretty much serves as a tunnel for rodents, birds, and bats. A chimney can be an easy passage way into a home with food and heat, attracting rodents. Rodents typically carry mites and ticks, and you don't want them burrowing inside of your chimney. When you are not using your fireplace, you should be shutting the flue. Shutting the flue will prevent rodents and pests from getting into your home through your chimney. When you are burning a fire, you must keep the flue open for ventilation.
Sealing the Hearth
Having a door installed onto the front of your fireplace is important, primarily, for safety reasons. Doors on fireplaces will help prevent children from getting too close to the fireplace. However, doors can also prevent pests from getting into your home through your fireplace. By sealing your fireplace shut with a door, you can help prevent pests from gaining entry.
If you do find you that you have a pest issue of any kind, contact Amherst Exterminators to take care of it for you.